Margherita / July 21, 2022
INTRODUCTION
As the Metaverse is becoming more and more part of our everyday lives, with Querlo you can now take a step into it while working. You can now create and customize the 3D Avatar that will represent you when communicating with your hosts, thanks to the latest collaboration between Querlo and ReadyPlayer.Me.
WHAT ARE METAVERSE AND READYPLAYER.ME
The Metaverse is a collection of many virtual worlds connected by various platforms such as ReadyPlayer.Me, where people are represented by avatars.
ReadyPlayerMe is a platform where users can create and personalize their avatars.
The great thing about this platform is that you can use your avatar for a variety of purposes. You can use your avatar to play Metaverse games, work, and do things like meet new people and attend events.
ReadyPlayer.Me is now used by over 2750 developers who integrate a portion of their platforms with the metaverse.
WHY IS THE 3D AVATAR A REVOLUTION
The newest technology lip-sync allows the avatar to talk and move as if it would be a real human assistant. Compared to the basic chatbot, the communication between a 3D avatar and the host is based on verbal communication typical of a human relationship, making the conversation experience unique. Because of this reason, the performance, and the feedback of the host will increase, because it will have the idea of talking to a real person.
A great example can be seen in our collaboration with Opera Santa Maria del Fiore, where a 3D avatar of Michelangelo has been created.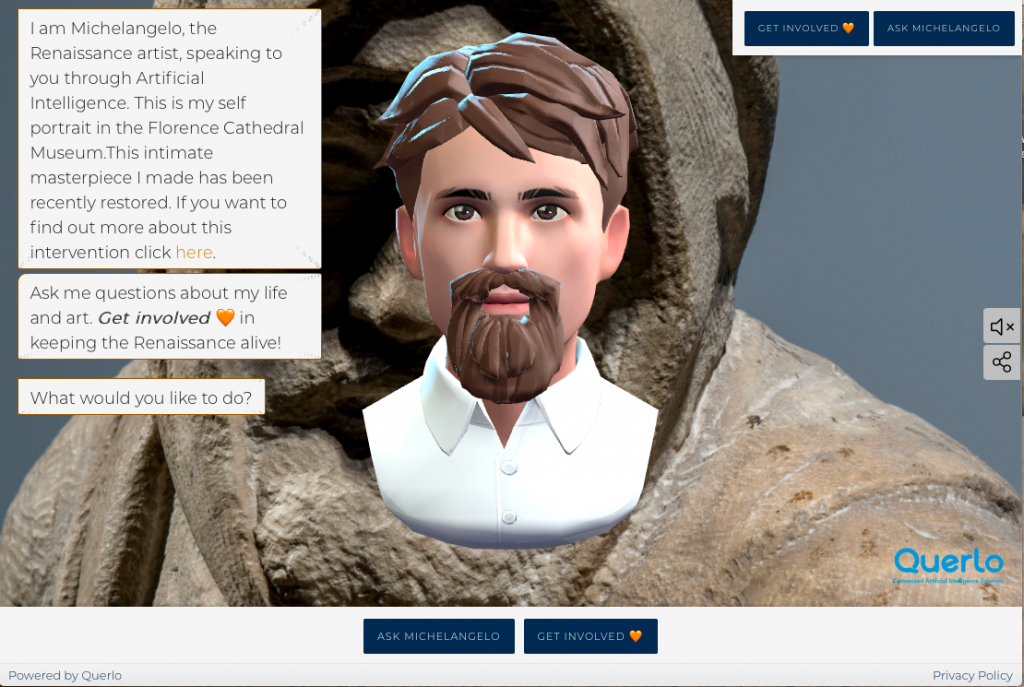 Through this technology, everyone can talk and ask a question about Michelangelo and his life. 
Follow the link to communicate with Michelangelo and discover his life. https://www.michelangelotalk.com
HOW TO CREATE AN AVATAR WITH QUERLO
Creating a 3D avatar for Querlo chatbots is simple!
Simply log in to your Querlo Chatbot Studio and navigate to the "customization" section.
On the "layout" section, you will find the new feature 3D Avatar tab, which will show you two different options, either to create your free ReadyPlayer.Me account and build your brand new avatar, or if you already have an existing avatar with ReadyPlayer.Me, simply log in and have fun while working with your avatar.
Follow the documentation link to get guided step by step, and have fun!
https://blog.querlo.com/docs/create-a-3d-avatar/
CONCLUSION
The Metaverse is a reality that is becoming highly significant not only in people's lives, but also in realities such as art, events, and workplaces.
Collaborating with ReadyPlayer.Me is very important to Querlo and its Staff.
Being a part of the process that will lead people into the Metaverse assists Querlo in consolidating its position and effort to keep up with the latest news and technologies, in order to provide our partners with the best features to work with.
Related Posts