In this blog post we will look at the basics of Querlo HR, our SAP-integrated Human Resources solution.
Querlo HR provides a simple and user-friendly conversational interface, which allows employees and HR managers to retrieve virtually any kind of company's work-related information and fulfill many different HR related tasks.
Let's start from one the most basic, but at the same time most central Querlo HR feature: the knowledge base module.
Querlo HR Knowledge Base
No more need to browse long lists of documents or use search boxes which return too many – or too few – results. Just ask Querlo HR what you want to know and let it do all the searching for you!
There is no limit on what you can ask, as Querlo HR can be trained and configured to cover any topics, from the most general ones, to your company's most peculiar.
Let's see how it works with some real examples. We start by logging in to the platform. All kind of devices are supported.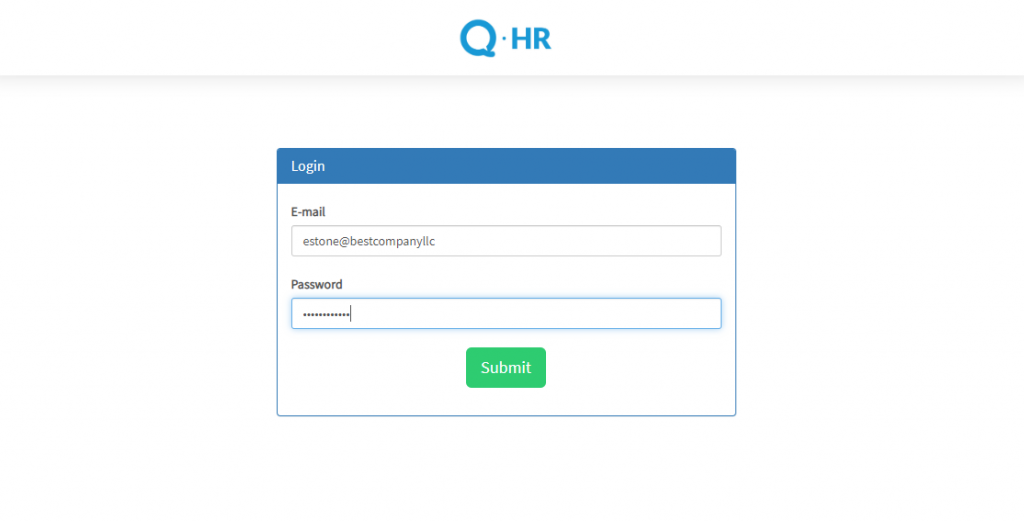 After logging in, we are presented with Querlo's conversational interface.
Here we could go straight to the point and ask what we need, but we want to be kind 😊 and start with a little small talk!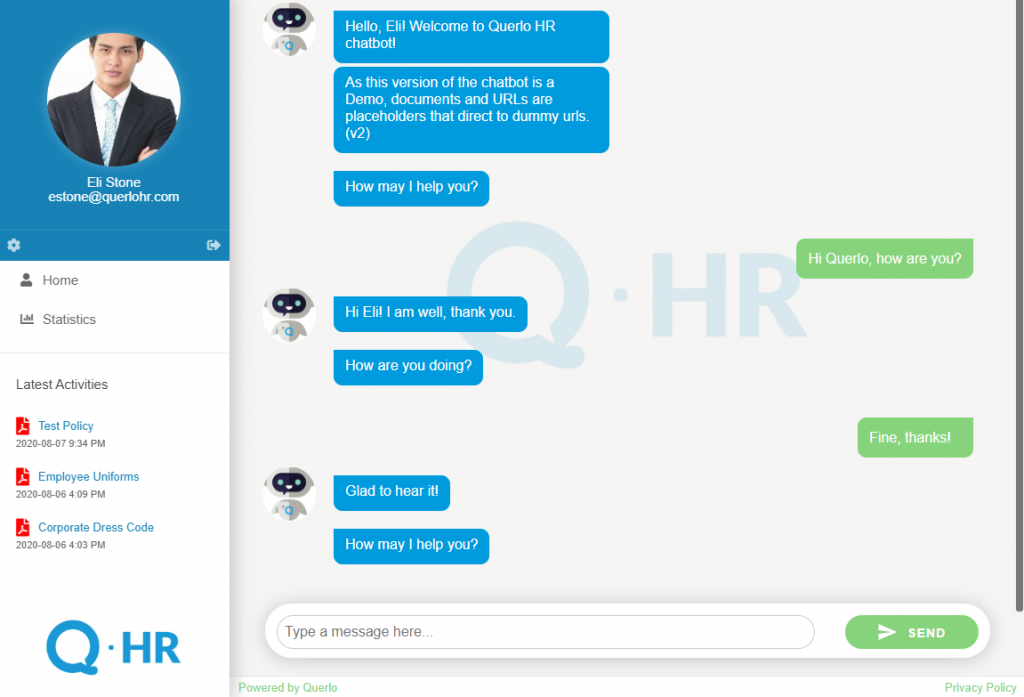 Nice, isn't it? Ok, now let's get serious and try with some real questions!
Real-world Examples
For example, we could ask: "How should I dress at work?" and Querlo will promptly show a card with a button to open a document about company's dress code.
In some cases, additional cards can be shown, with suggested topics related to the main results. This functionality however is totally configurable and can be adjusted, or even disabled, upon company's preference.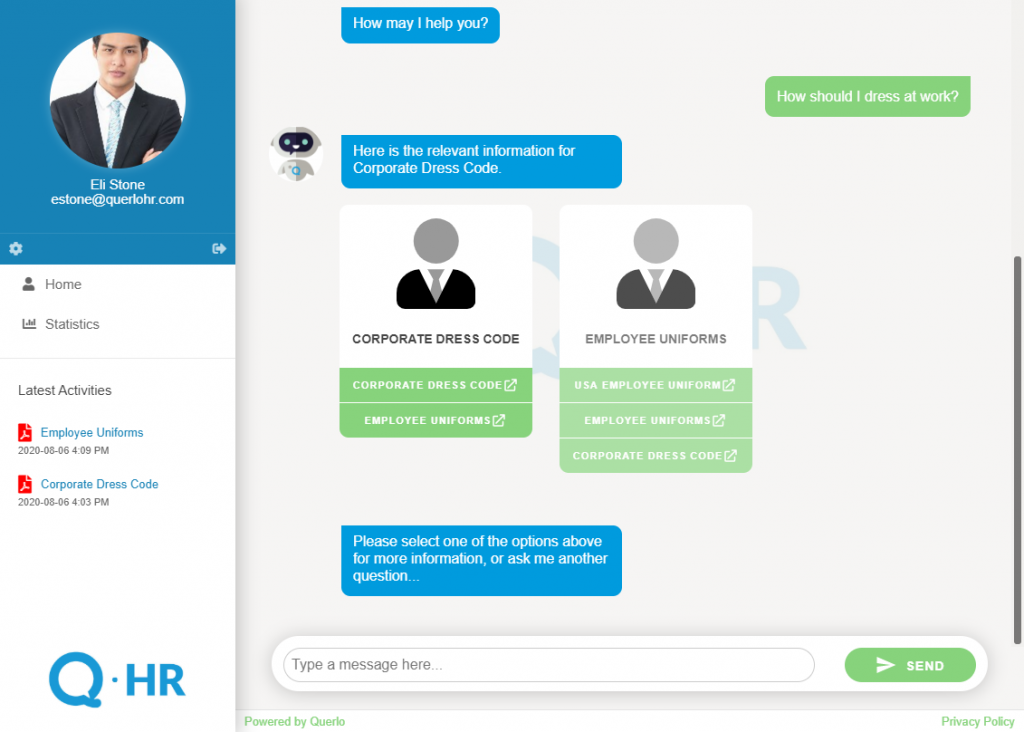 Let's see another example: "How can I apply for a company credit card?" In this case, a card for opening a document with Corporate Credit Card policies and procedures is shown.
For multinational corporations, with different country policies, Querlo can provide different documents based on the location of the requesting employee.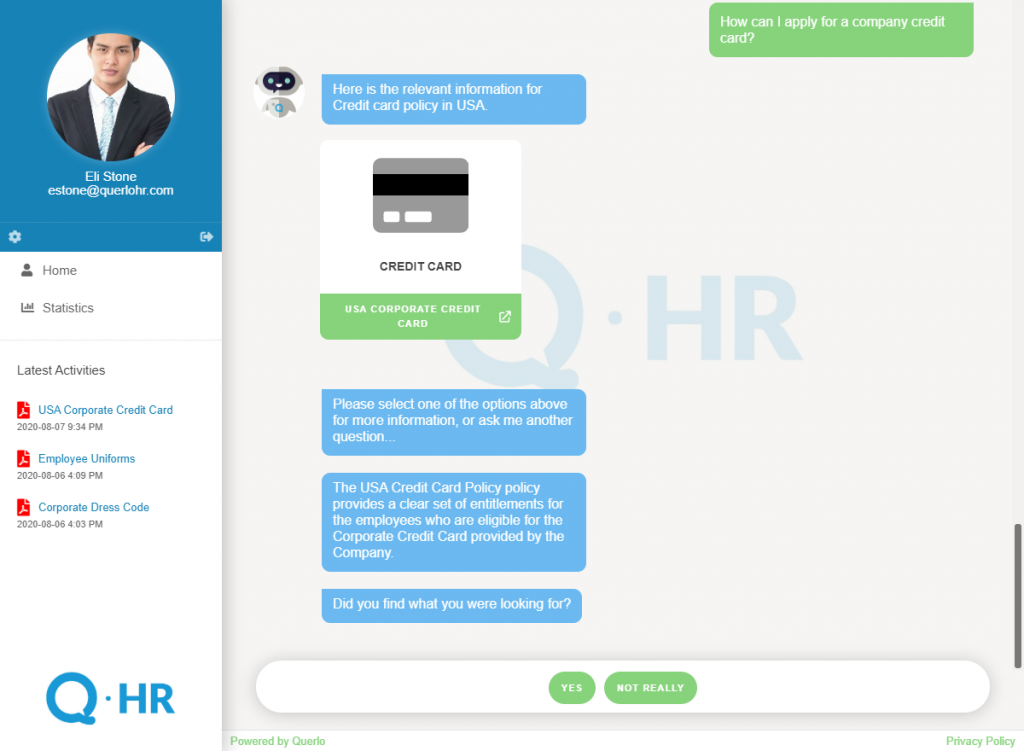 Latest Activities list
When a document is opened, it is added to the Latest Activities list in the left column, so that we can directly open it in case we need it again later.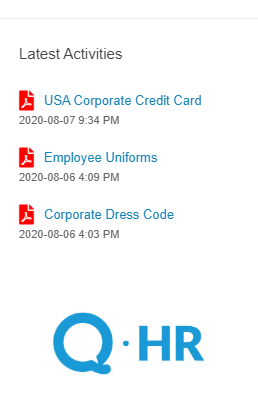 SAP Integrated
As Querlo HR is deeply integrated with company's HR systems, queries with personal information are also allowed.
"When did I start working here?" Our conversional assistant will connect to company's HR infrastructure to provide the requested information.
As we have already seen before, related cards are also shown for your convenience.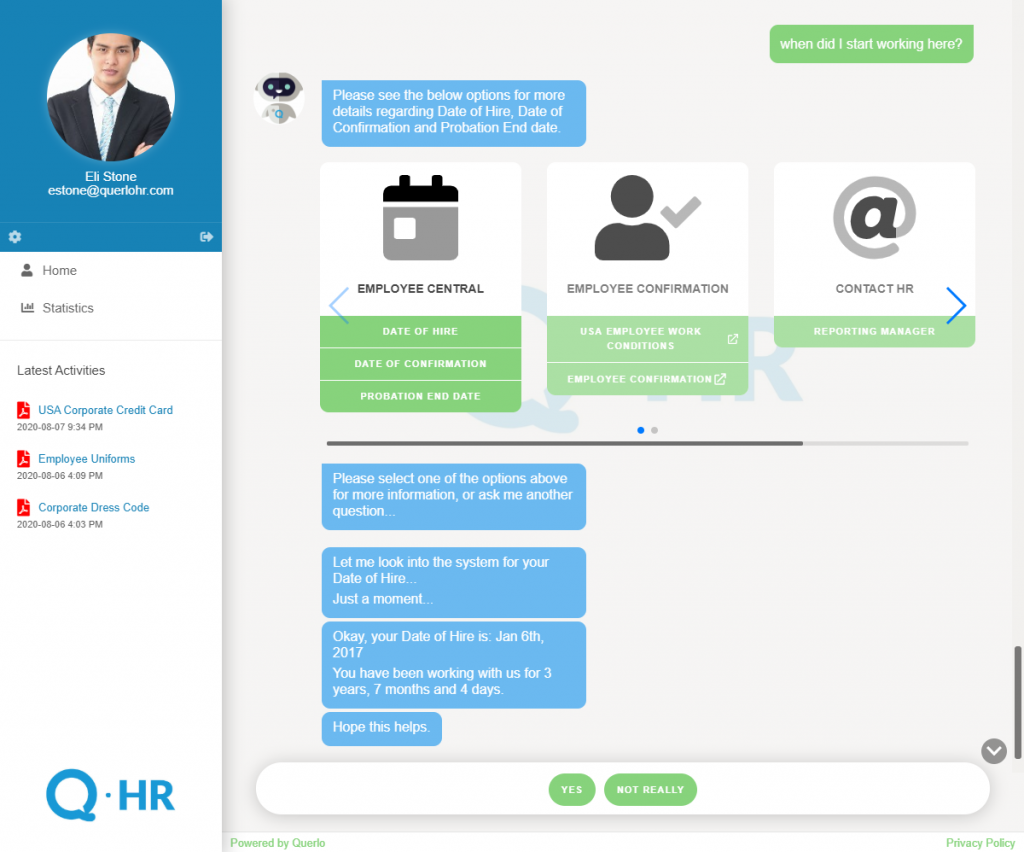 Improve through feedbacks
Feedbacks are essential to improve.
Querlo HR asks users for feedback and collects anonymous usage information which can be used to improve its behavior and get useful insights on new abilities which could be implemented.
No need to say, feedback gathering is totally configurable and can also be disabled.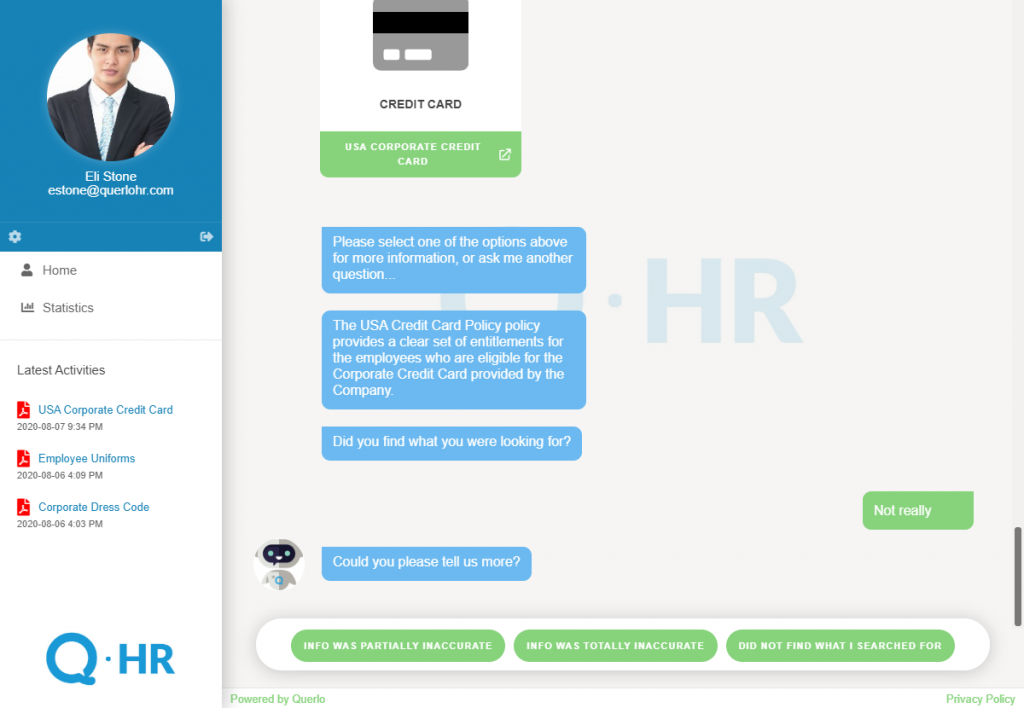 Detailed Usage Statistics
Internal statistics module provides administrators with detailed and accurate usage metrics like Total sessions, Unique users, Average session duration, etc.
Conclusion
In this article we have seen the basic features of Querlo HR solution:
AI driven conversational interface.
AI driven knowledge base which can help users locate policy documents or external services through simple questions, via natural language.
Different documents versions can be provided depending on user's location.
Suggested results.
Deeply connected with company's HR systems to gather and provide specific user information.
History of latest documents opened.
User feedback module.
Detailed usage statistics.
Almost every aspect is highly configurable.
And we have only scratched the surface of what Querlo HR can do.
Many more modules are available, which deal with various HR tasks, like Leave Application, Recruiting, Onboarding / Offboarding, Goals and Performance, etc.
Contact us at: info@querlo.com
Web site: https://www.querlo.com/products/hr-assistant
Related Posts